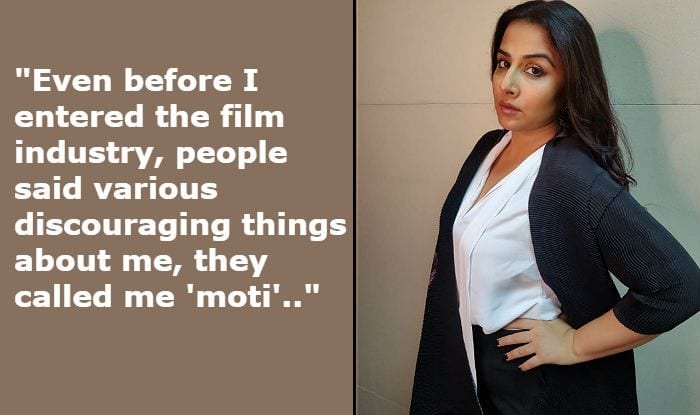 Vidya Balan who is an acting Goddess. But the lady has always been criticized for her oversized body. Many people have always regarded her as the aunty of Bollywood.
She has an oversized curvy figure which looks great in ethnic dresses. Maybe that is the reason she has always been seen sporting a saree. She is also fondly called as the brand ambassador of sarees.
But the lady is known for her bold choices. Be it movies or her statement, she always makes sure that she is in headlines. And this time she is talking about yet another very important subject. Vidya addresses the issue of body shaming through which even she has been victimized time and again.
The lady shares her own struggle through Bollywood songs.
Recommended Read: 
She begins the video with
"Kabhi tu moti kahta hai, kabhi to chhoti kahta hai…."
She slowly turns into emotional and sad. The lady is clad in a black sari with a dupatta wrapped all over the body. She is in a messy makeup and it seems that she touches all the right chords with this video.
For everyone who thinks they are beautiful and tears each other down for not being one needs to watch this video by @vidya_balan. #DhunBadalKeTohDekhohttps://t.co/qVsjpBTwwj pic.twitter.com/3EvVLaXXLe

— Suraj (@LoveYouAK_) May 29, 2019
To everyone who hasn't learnt from their mistakes, please watch this video. Vidya Balan's perspective on body shaming is such an eye-opener.#DhunBadalKeTohDekho https://t.co/1ANpeiQr4N pic.twitter.com/1dDl7TCfo4

— Demon™ (@DemonsHead_) May 29, 2019
She also shares how throughout the years she has been a victim of wrong skin tone for Bollywood, having short height, too much of body fat and all that. In the end, she stands strongly throws off her dupatta and is standing confidently in her black and white saree. Vidya also added that everyone is unique and she is proud to look like her age.
Tears rolling .. #VidyaBalan #DhunBadalKeTohDekho https://t.co/cPL1BlmDWL

— Shreyansh Jain (@shreyJayy) May 29, 2019
She further added that body shaming is a shameful act and it hurts people's confidence quite badly.
With this video, it feels like Vidya Balan has read my mind, really is amazing#DhunBadalKeTohDekhohttps://t.co/VrGZcURnl0

— दिव्या (@Bhagwa_) May 29, 2019
Don't judge anyone with the shape of their body nothing's wrong with anyone's body, but with the minds of the people who body shame. Please watch this inspirational video by Vidya Balan. #DhunBadalKeTohDekho https://t.co/DiuS5hcxsr pic.twitter.com/PPk8j2EMjh

— Swa (@Swathi_Rocks243) May 29, 2019
The video went viral by the name of #DhunBadalKeTohDekho. Many of her fans, Bollywood icons and people from all spheres of life started appreciating her bold move and the video.
That was Vidya Balan gets bold about Body Shaming
That Was Vidya Balan gets bold about Body Shaming, Hopefully it's useful and you like it.
You are reading Vidya Balan gets bold about Body Shaming,Url address: https://www.fiwwit.com/2019/06/vidya-balan-gets-bold-about-body-shaming.html