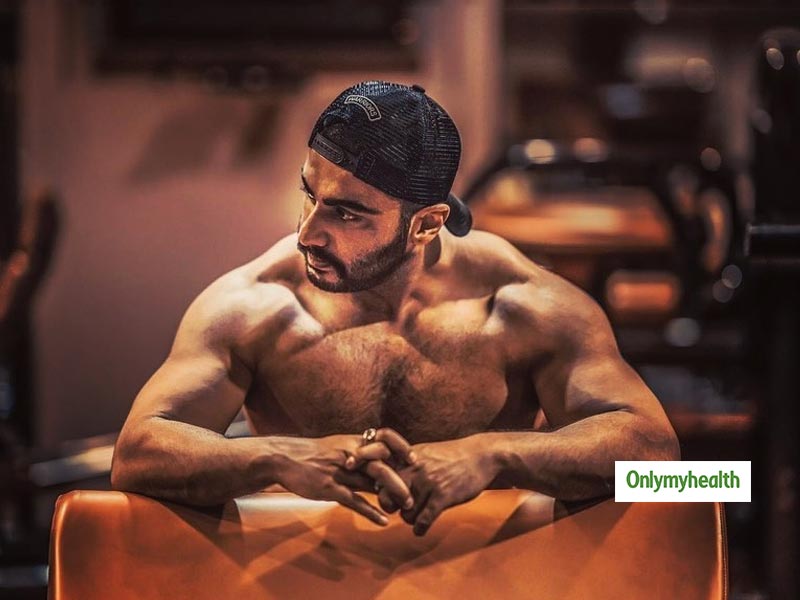 Arjun Kapoor is training day in and day out for his upcoming release, Panipat. However, his fitness journey has not been simple. His transition from fat to flab is every bit inspirational and fabulous
We all know how Arjun Kapoor has fought several odds when it came to his health and weight since childhood. Also, he loves keeping his fans updated about his current fitness regime through Instagram. In a recent post, the 'Namaste England' actor quoted, "My journey has been tough since childhood as I was always battling with excess weight and other health problems. But the whole point is to fall, get up and work again. The efforts will be visible someday. For my much-awaited release, I started training this January and have managed to achieve some exceptional results. Back then, I promised not to give up when I had to lose 50 kgs in my 20s. And I will surely not give up now! One should have faith and belief in oneself."
Arjun Kapoor Fitness Training 
Now training under the celebrity trainer Shivoham, Arjun Kapoor is training his guts out for his upcoming release, Panipat. From a childhood where he had asthma to now, Arjun Kapoor has worked out hard to lose a massive amount of weight by dedicating his life to fitness and weight training. His perfectly toned abs and a bulky body is a result of intense six days of workout with just one day of rest. He believes that one should keep working out without focusing much on results as hard work always pays off. 
Also read: Salman Khan Leg Press Exercise Video: Watch Bhai's 'Highs And Lows' With His Bodyguards
Day 1 Workout Plan: The first day of the week is dedicated to the lower body. Squats, CrossFit and cardio, are his significant workouts for the day. For warm up, he does 5-10 minutes of slow running and jogging followed by seven suryanamaskars. Adding to it, he does ten squats, lunges, burpees and jumping jacks. He does seven rounds of this with warm-ups in between. 

Day 2: Apart from the warm-ups and essential cardio for the day, he does 150 rounds of skips, 50 air squats, 20 push-ups and ten burpees. 
Day 3: His workout routine for day three is all about 1.5 k cycling, 2 mins of plan, legs, shoulder and back exercises for three rounds in one go. Arjun believes that one should push themselves to their best limits for best results. 

Day 4: For those perfectly sculpted muscles, Arjun Kapoor does Olympic lifts, CrossFit and abs. He combines his routine with high knees, jumping jacks, butt kicks, three sets to get to your starting weight for the workout, five clean and press, ten pull-ups, toe touches, hollow rocks and planks. 

Day 5: Day 5 is all about 50 mins of strict CrossFit, squats, lunges, jumping jacks, 50 pull ups, 50 push ups, 50 squat, 50 push press, 50 wall ball shots and 50 burpees. 

Day 6: The last day of the workout for the week is all about CrossFit and abs and skills. With all of the exercises mentioned above, he also ventures out for a run. 
Arjun Kapoor Diet 
Arjun Kapoor has come a long way from his 20s, where he was fat to now where people take inspiration from him for fitness and weight loss. Arjun believes in making conscious efforts in all direction to faci8litate weight loss. For starters, he made healthy choices in food like switching to brown bread, egg whites only and roti over rice. The first thing he did was to cut down drastically on fast food and adopt a healthy lifestyle for complete wellness. He also includes a lot of proteins in his diet, including chicken and fish. 
Also read: Here is The Secret to Malaika Arora's Toned Washboard Abs
On the work front, Arjun Kapoor is slowly training and preparing for Panipat. The film is based on the third battle of Panipat. A period drama in the making, this film is slated to hit the theatres in December 2019. 
Read more articles on Fitness and Exercise 

Written by: Vani Malik
Source: Onlymyhealth editorial team Jun 19, 2019
That was Arjun Kapoor's Fat to Fit Weight Loss Journey: Panipat Actor's Workout, Training and Diet Plans Revealed
That Was Arjun Kapoor's Fat to Fit Weight Loss Journey: Panipat Actor's Workout, Training and Diet Plans Revealed, Hopefully it's useful and you like it.
You are reading Arjun Kapoor's Fat to Fit Weight Loss Journey: Panipat Actor's Workout, Training and Diet Plans Revealed,Url address: https://www.fiwwit.com/2019/06/arjun-kapoors-fat-to-fit-weight-loss.html