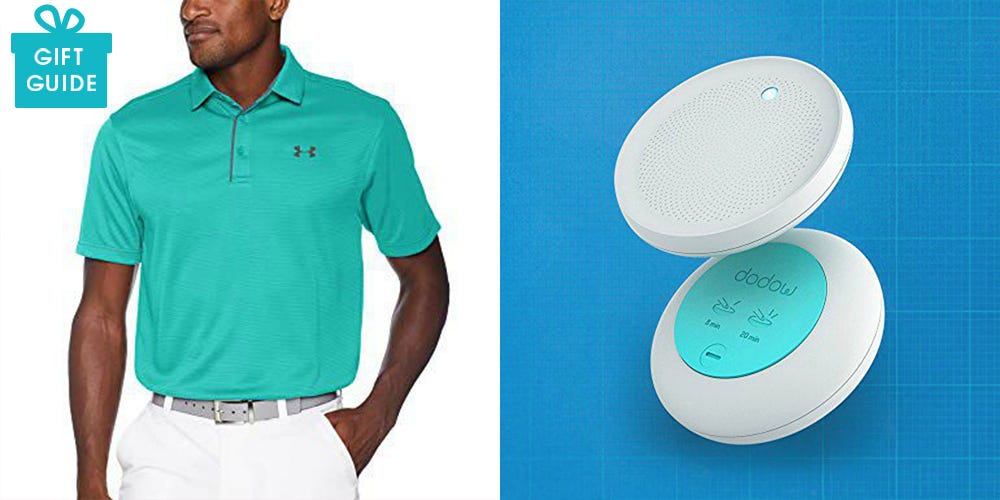 If you still haven't done your Father's Day shopping, we can get it checked off your list in a matter of minutes. That's because the ideas below are bestsellers with rave reviews, and many qualify for free expedited shipping with Amazon Prime. There's sports gear for the athletic dad, sleeping aids for new dads, wine recommendations for older dads who've earned a fine drink, and even a few quirky surprises thrown in for good measure. Shop now and be ready to go on June 16!
1 Adidas Relaxed Strapback Cap
adidas
amazon.com
$24.00
Dad's go-to headgear probably hasn't changed since the early 2000s, but this worn-in Adidas cap is easy to love. The seamband is 100 percent cotton and the whole shebang was made in the USA.  
2 Hallmark Signature Wood Father's Day Card
Hallmark
amazon.com
$5.63
If you want to make him something personalized but wouldn't exactly call yourself crafty, this Father's Day card from Hallmark has a wood veneer—how cool is that?! There's even a dad joke on the inside: "When it comes to being a great dad, you totally nailed it."
3 Gym Duffle Bag
NEWHEY
amazon.com
$39.86
$33.86 (15% off)
Pssst...Dad's gymbag could probably use an upgrade. This affordable option has a waterproof lining, two air vents for ventilation, and five mesh pockets. Plus, it's nice that there's no logo. Makes it look more expensive than it actually is! 
4 Cooling Pint Glasses
HOST
amazon.com
$18.89
For the dad who loves an ice-cold beer at the end of a long day—or a few on the weekends—this set features a special cooling gel that will keep his IPA chilled for hours. A great gift if you've got a lot of backyard parties or sporting events on your family social calendar! 
5 Ember Temperature Control Ceramic Mug
Ember
amazon.com
$79.95
If Dad's not much of a drinker, an Ember mug is the perfect way to keep non-alcoholic beverages perfectly heated to 130 degrees for up to an hour. And with the accompanying app, he can adjust the temperature even when he's called to another room. 
6 Under Armour Men's Tech Polo
Under Armour
amazon.com
$41.48
If Dad loves a game of golf, gift him a bright new polo that will help him stand out on the greens. This Under Armour shirt features a light, breathable fabric that wicks away sweat and has special, odor-fighting technology. What more could he ask for?! 
7 Bose SoundSport In-Ear Headphones
Bose
walmart.com
$49.99
Bose is known for top-shelf sound quality, and while there are newer sports headphones available from the company, these plug-ins are super easy on the budget. They're sweat- and weather-resistant, and he'll get a range of StayHear® tips for the perfect fit. 
8 Dodow Sleep Aid Device
DODOW
amazon.com
$59.90
This sleek-looking metronome is quickly amassing a cult-like following. It features a light system that helps you fall asleep naturally. You just tap the touch-sensitive surface for either an 8-minute mode or 20 minutes. Voila! ZZZ city. 
9 Bosch Power Tools Combo Kit
Bosch
$99 
Has Dad ever met a power tool he didn't love? This kit from Bosch includes a powerful 12-volt drill driver (up to 1,300 RPM and a 12-volt driver (up to 2, 600 RPM). It's also lightweight, making it easy for overhead tasks like installing new light fixtures. It's also great for tight or narrow spaces. Win-win! 
10 Coop Home Goods Memory Foam Pillow
Coop Home Goods
amazon.com
$175.99
$59.99 (66% off)
This hypoallergenic memory foam pillow was just named part of Prevention's 2019 Healthy Sleep Awards. Our editors love that it can help keep your head, neck, and spine aligned. The cover is machine-washable, and because the foam is certified by CertiPURUS, you can know it's been made without the use of known harmful chemicals.
11 Shiitake Mushroom Log Kit
uncommongoods.com
$30.00
If your dad's personality is on the quirkier side, may we suggest a mushroom log kit?! As long as he soaks it every six weeks and keeps it in a cold, dark, damp location, it will provide steady harvests for up to three years. Georgia-based creators Howard Berk and Todd Pittard recommend using the shrooms for stir-fries, stuffings, salads, and sauces. 

12 Trinchero Mario's Vineyard Cabernet Sauvignon 2014
wine.com
$49.99
A great bottle of red wine is an excellent last-minute gift idea for dads. This bottle has a cool story behind it: It's named after Mario Trinchero, one of the founding fathers of Napa Valley. His varietals are sustainably sourced from two estate vineyards on sought-after benchland soil.  
13 Josh Cellars Great Outdoors Box
Josh Cellars
$75
You can also dress up a glass of wine with a few accessories—and Josh Cellars makes it easy! They're offering several Father's Day gift collections on Giftagram. This one, for outdoorsy dads, includes an Opinel corkscrew folding knife with a 10-cm blade plus two stainless steel travel-friendly wine tumblers.  
14 eTape16 Digital Tape Measure
eTape16
amazon.com
$29.99
Take Dad's handiwork into the 21st century. This tape measure features a large digital display and US/metric conversation. It's also weather resistant! Pair with a couple coupons that say you'll be his sidekick. 
15 Apple iPad 128GB Wi-Fi
Apple
walmart.com
$429.00
$349.00 (19% off)
If you and the siblings want to go in on a group gift idea, an Apple iPad suddenly becomes very reasonable. The latest model features a 9.7-inch Retina display, a Touch ID fingerprint sensor, 8MP back camera and 1.2MP FaceTime HD front camera, and up to 10 hours of battery life. Not to mention you can get it delivered tomorrow if you have Amazon Prime. 
That was 15 Last-Minute Father's Day Gifts for Every Dad
That Was 15 Last-Minute Father's Day Gifts for Every Dad, Hopefully it's useful and you like it.
You are reading 15 Last-Minute Father's Day Gifts for Every Dad,Url address: https://www.fiwwit.com/2019/06/15-last-minute-father-day-gifts-for.html