If you suffer from stress and anxiety, you're not alone: Anxiety disorders affect some 40 million adults in the U.S., and about half of Americans are stressed out. That's a big deal, considering the majority of adults dealing with anxiety experience sleep problems, like insomnia.
While there are plenty of natural remedies for anxiety, one med-free treatment that has been getting a ton of buzz recently is weighted blankets. Also known as gravity blankets, these quilts are stuffed with polyfill and glass beads to produce the "grounding" effect, making them heavier than your average comforter. Fans of weighted blankets claim that the added weight helps them fall and stay asleep throughout the night.
But will sleeping with some extra weight really make a difference? Or is this just another self-help gimmick picking up short-lived momentum? We tapped some experts to explain.

Do weighted blankets work for anxiety and insomnia?
Some experts have claimed to witness weighted blanket benefits firsthand, like Tennessee-based therapist Donna Durham, MMFT, who started using them with her clients. (Full disclosure, she ended up designing and selling her own weighted blankets.)
"They [her clients] would be able to go from having trouble sitting still to 'Hey, would you mind turning off the lights and letting me just sit here for a few minutes?'" she says. "I had some clients who just then started incorporating it into their self-care, to where they would have a weighted blanket in their car, or in a special bag, so if they had panic attacks, they would use them to interrupt those attacks."
That said, the science is limited in showing that gravity blankets can ease anxiety. Only preliminary research suggests that sensory treatments like weighted blankets help manage anxiety, explains Sandy Capaldi, PsyD, licensed clinical psychologist, and associate director for Center for the Treatment and Study of Anxiety at the University of Pennsylvania. More studies with large sample sizes need to be done to truly determine how effective they are, she adds.
Preliminary study results are promising, though. A small study in the Journal of Alternative and Complementary Medicine found that "grounding" the human body, or pushing it downward with deep pressure touch (DPT)—similar to the experience of using a weighted blanket—reduces the production of cortisol, a stress hormone that brings about symptoms commonly associated with anxiety.
How heavy should a weighted blanket be?
There isn't much research around how heavy a weighted blanket should be, but ultimately, it's based on your personal preference. Most weighted blankets typically range between 15 and 30 pounds, and the makers of the Gravity Blanket recommend sticking to one that's equal to 10 percent of your body weight. So if you weigh 150 pounds, you'd use a 15-pound blanket.
One small study published in the journal Occupational Therapy in Mental Health might point toward benefits of heavier models: It concluded that 30-pounders can make you feel at ease, as 63 percent of the 32 participants reported feeling less anxious after sleeping with one.

Are weighted blankets safe for children?
As a parent, it may be hard to get a full night's rest, especially for those with newborns and toddlers. While it might be tempting to do anything to help your child get some sleep, weighted blankets may be a risk for young children and even older children with developmental disorders.
The American Academy of Pediatrics (AAP) conducted a study on children with autism and found that weighted blankets were not effective in helping them fall asleep faster, sleep longer, or wake up at night any less frequently. Currently, the AAP's safe sleep guidelines recommend that parents and caregivers do not use blankets of any kind for infants.
---
Best weighted blankets for anxiety and insomnia
As for adults with anxiety, you may be looking to give one of these weighted blankets a try. Here are the best weighted blankets to consider if you're tossing and turning all night.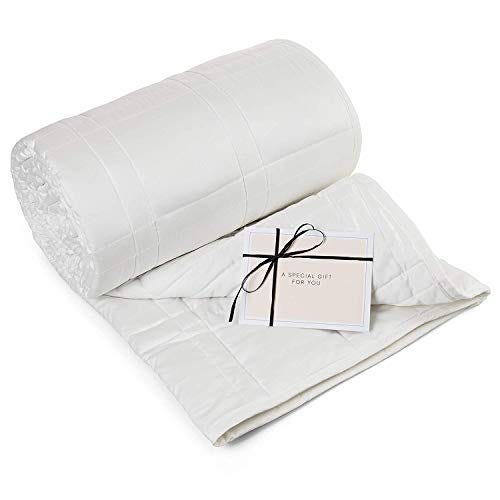 Baloo Weighted Blanket
Baloo
amazon.com
$169.00
Baloo Weighted Blanket
Meeting the Oeko-Tex Standard for textile products, this weighted blanket by Baloo is free of harmful chemicals and toxins. Although this blanket is weighted, it's made with breathable cotton that won't cause you to overheat at night.
Amazon reviewers rave that the blanket actually helps them relax, including this mom with a newborn: "For the first time in months, I simply went to bed and fell asleep. The weighted blanket adds a layer of physical comfort that finally allowed me to relax. I have had my blanket for just over a week and my sleeping habits have drastically improved."
---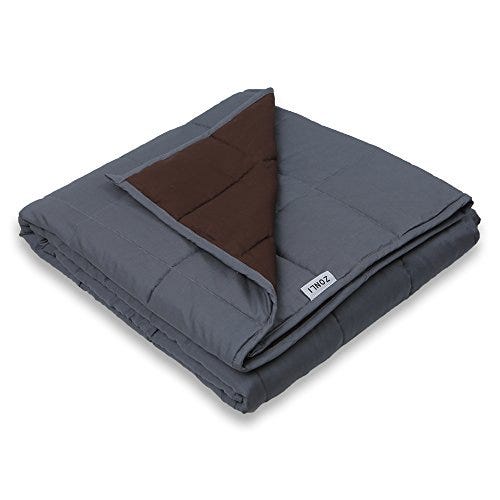 ZonLi Weighted Blanket
ZonLi
amazon.com
$69.99
ZonLi Weighted Blanket
ZonLi's weighted blankets are designed with 100% breathable cotton, making them a great option for sweaty sleepers. What's more, the filling is made with a hypo-allergenic polyester padding to keep dust, mold, and other allergens at bay.
With their more than 10 colors to choose from and blankets ranging from five to 20 pounds, there's sure to be something that matches your bedroom vibe and sleep needs. An Amazon reviewer writes, "I like to sleep with the weight of multiple blankets so I thought I would try this blanket. I absolutely love it. I originally bought the 20-pound blanket but found it to be too heavy for me, so I exchanged it for the 15-pound one. I sleep so much better with it that I brought it on vacation with me."
---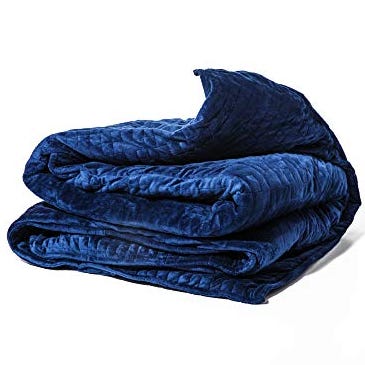 Gravity Blanket
Gravity
amazon.com
$249.00
Gravity Blanket
Gravity Blanket went viral after raising close to $5 million on Kickstarter in 2017, and has generated a reported $15 million in sales since May 2018. Choose between 15-, 20-, and 25-pound options, all of which are constructed with a velvety exterior. While the company has retracted initial claims that its revolutionary blanket treats anxiety and insomnia, reviewers still applaud how well the blanket helps them sleep. "It's like Advil PM for your entire body," one reviewer wrote.
---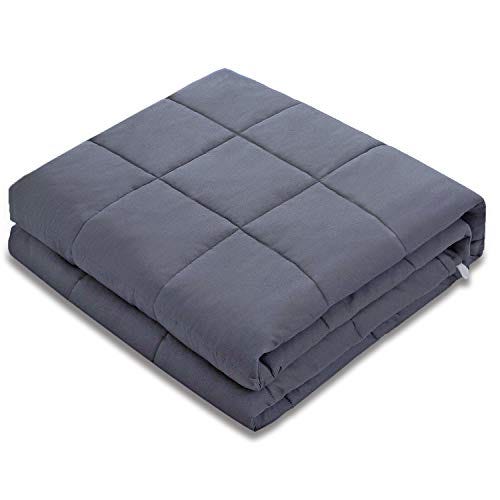 Amy Garden Heavy Blanket
amazon.com
$70.80
$47.80 (32% off)
Amy Garden Weighted Blanket
This blanket is made with 100 percent cotton and filled with hypoallergenic, evenly distributed glass beads. The weighted insert and duvet cover are sold separately, but purchasing both will make it easier to clean—just be sure to choose matching sizes! To clean, slip the cover off and throw it into the wash. One reviewer wrote: "I was skeptical about buying this product, but I have to say that it really does help with my anxiety, and does help me fall asleep, and have a deeper sleep at that."

---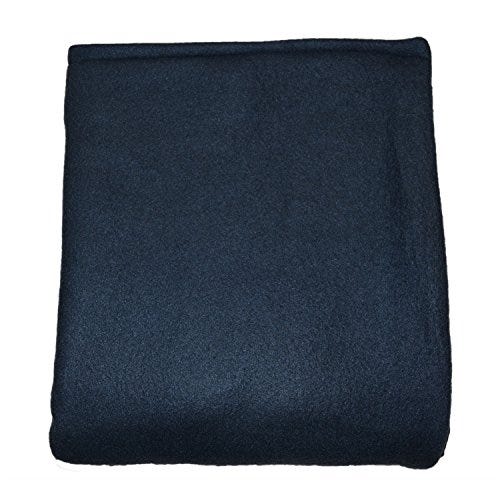 Amazon
Melissa's Weighted Blankets
Melissa's Weighted Blankets
amazon.com
$59.99
Melissa's Weighted Blankets
This fleece blanket by Amy Garden has earned nearly five perfect customer review stars on Amazon, and for a good reason. Each weighted blanket has seven layers (two thick but breathable layers and three layers on each side around the glass beads.) The large number of layers is supposed to help prevent the glass beads from penetrating the fabric.
Choose from a range five- to 25-pound blankets, but if you're new to the weighted kind, the company recommends starting with 10 percent of your weight. As a bonus, it comes in a variety of gorgeous colors, so you can easily find one that fits your decor.
---

YnM Cooling Weighted Blanket
YnM
amazon.com
YnM Cooling Weighted Blanket
A great option for warmer weather, this weighted blanket relies on moisture-wicking, breathable bamboo viscose to help you stay cool as you snooze. The two layers of breathable cotton fabric between the bamboo and thin polyfill help ensure that the glass beads don't leak after several washes. One Amazon reviewer wrote: "I got it for my husband's birthday, who suffers from occasional mild anxiety, and often slept with pillows on his body. I debated for a while as it's not cheap, but it is WORTH the price. Thanks for the quilting, the weights don't shift around. It conforms perfectly to the body."
---

Premium Weighted Blanket
Platinum Health
amazon.com
$299.00
$147.11 (51% off)
CALMFORTER Blanket
This reversible weighted blanket was designed for convenience. Not only does it come in a variety of colors, but you can zip off the outer cover to make it easier to wash and dry. One side of the blanket has textured dots, which is designed to help keep those with fidgety hands calm, while the other side is smooth and will keep you warm.
According to one Amazon reviewer who bought the blanket for her daughter, "the color is gorgeous and the weight of the blanket (12 pounds) is perfect. It is weighted enough to make you feel comfortable and cozy underneath it, but not too heavy as to make you feel constricted or overheated."
---

CoolMax
Weighted Blanket
COOLMAX®
weightingcomforts.com

Comfort COOLMAX
Weighted blankets sound like a hot sleeper's nightmare. That's why Weighting Comforts created the COOLMAX weighted blanket, which is made with a special fabric that is engineered to wick away sweat. "For women who are going through menopause who end up with these hot flashes, it has really been a helpful product for them," the founder of CoolMax says.
---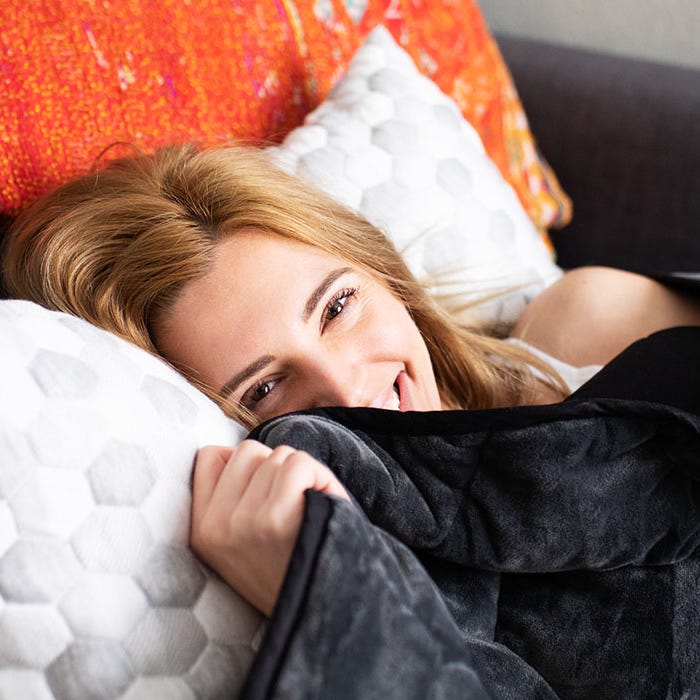 Layla
Layla Weighted Blanket
62 review(s)
laylasleep.com
$119.00
Layla Weighted Blanket
Layla's weighted blankets are made with 300-thread count, 100% cotton for an ultra-lux experience that'll make you want to hop in bed. The
fleece-like top layer keeps you warm, while giving you a comforting, soft fabric that feels good to touch
. One Layla reviewer says, "With multiple weigh options and even distribution, the Layla weighted blanket hugs your body with a grounded pressure that eases your mind and body to sleep." Sign us up!
Stay updated on the latest science-backed health, fitness, and nutrition news by signing up for the Prevention.com newsletter
here
. For added fun, follow us on
Instagram
.
That was These Weighted Blankets Will Make You Feel Like You're Sleeping on Clouds
That Was These Weighted Blankets Will Make You Feel Like You're Sleeping on Clouds, Hopefully it's useful and you like it.
You are reading These Weighted Blankets Will Make You Feel Like You're Sleeping on Clouds,Url address: https://www.fiwwit.com/2019/05/these-weighted-blankets-will-make-you.html