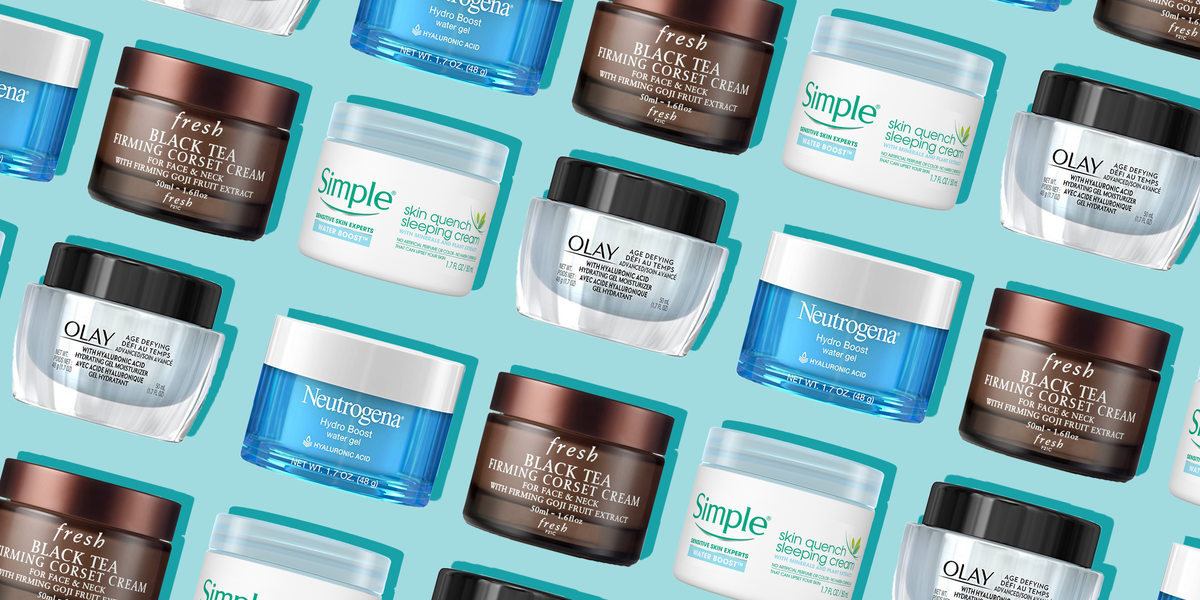 You've spent years caring for the skin on your face, thanks to the consistent application of anti-aging staples, like sunscreen, vitamin C serum, and retinol creams. The problem? You forgot about your neck, and now, it's starting to look a bit more wrinkled than you'd like.
That's no surprise—the skin there is rather unique. "The skin on your face has more oil glands and has a better ability to regenerate and heal compared to your neck," says Eric Meinhardt, MD, founder and medical director of California Dermatology Specialists. The skin on your neck is also thinner, so it's more prone to showing the signs of aging, like sagging, sun spots, and fine lines.
Applying a neck cream may be exactly what you need to help tighten things up. "There are specific creams for each body part for a reason, because they all contain different ingredients tailored to your concerns," says Lady Dy, MD, a dermatologist with Advocate Lutheran General Hospital in Park Ridge, Illinois, and founder of the Dy Dermatology Center.
Neck creams are formulated to firm and re-texturize crepey skin, as well as even out skin tone, she says. (What they can't do: give you surgical-like results or get rid of super-saggy skin below your chin.) You can also streamline the process and bring your favorite anti-aging face creams down onto your neck, and many formulas even instruct you to do so. It's all up to you and what best fits into your skin care routine.
How to choose and use the best neck cream
Don't forget sunscreen: For your daytime option, "sunscreen should be applied to all exposed skin, as UVA and UVB rays can cause damage rain or shine," explains Shari Marchbein, MD, a board-certified dermatologist at Downtown Dermatology in New York City. "Most of us remember to apply it to our faces but then forget about other areas, such as the neck and hands. I recommend using a moisturizer with sunscreen that has at least a 30 SPF."
Amp up the moisture: "Moisturizing is equally if not more important on the neck," says Dr. Marchbein. "The delicate skin is susceptible to dryness and eczema, which can make the neck skin look dull and ashy." Look for hydrating ingredients like ceramides (natural fats found in the skin), as well as hyaluronic acid and glycerin (humectants that draw water to the skin).
Look for key ingredients: Depending on what you're looking for, vitamins C and E (antioxidants), retinol (wrinkle fighters), alpha hydroxy acids (exfoliators), peptides (collagen boosters), shea butter (moisturizer), and niacinamide (redness-reducer) are all beneficial ingredients to look for in a neck cream.
Now that you've promised to never neglect your neck again, here are the best neck creams that fight the signs of aging before they even have time to appear.
1
Best overall
L'Oréal Paris Revitalift Anti-Wrinkle + Firming Face & Neck Cream
walmart.com
$10.34
Dr. Marchbein recommends this neck cream from L'Oréal because it contains proxylane, "a sugar protein that boosts hydration in the skin, diminishing the appearance of wrinkles and enhancing skin thickness." It also contains Pro-Retinol A to speed skin cell turnover, smooth fine lines, and tighten the skin for a more lifted look. Bonus: The non-greasy, lightweight formula sinks into skin seamlessly.
2
Best value
Simple Water Boost Skin Quench Sleeping Cream
walmart.com
$8.79
This drugstore neck cream gets a stamp of approval from Dr. Marchbein, thanks to its lightweight, hydrogel formula. Packed with skin-plumping glycerin and exfoliating lactic acid, this fast-absorbing cream revives dull-looking, dry skin while you sleep without the risk of redness and irritation. 
3
Best neck cream with SPF
Elizabeth Arden Prevage City Smart SPF 50 Hydrating Shield
Elizabeth Arden
amazon.com
$68.00
Dr. Marchbein recommends applying this option from Elizabeth Arden before heading out for the day. It contains broad-spectrum SFP 50, so it protects your neck from damaging UVA and UVB rays. As a bonus, this neck cream contains protective antioxidants, blocks pollutants from entering the skin, and has a slight tint to even out tone.
4
Luxury pick
SkinCeuticals A.G.E. Interrupter Mature Skin Treatment
dermstore.com
$165.00
Dr. Marchbein also points to proxylane in this firming neck cream from SkinCeuticals. Packed with antioxidants, herbal extracts, and moisture-boosting dimethicone, this cult favorite reduces fine lines and wrinkles, smooths out rough texture, and thickens skin for a firmer look. The whipped texture feels super soft and velvety on the skin, too.
5
Rave reviews
Neutrogena Hydro Boost Water Gel
amazon.com
$18.98
$15.99 (16% off)
Packed with hyaluronic acid, this noncomedogenic face and neck cream will help add plumpness back to the skin, says Dr. Sivendran. The silky gel texture also absorbs quickly, so it won't feel greasy going on. With more than 2,000 raving reviews on Amazon, this affordable option is super easy on the wallet, too.
6
Bestseller
Fresh Black Tea Firming Corset Cream
nordstrom.com
$95.00
This botanical neck cream packs a black tea complex, blackberry leaf extract, and lychee seed extract to fight aging free radicals (aka, molecules that damage your skin cells), and offers peptides to tone and firm. Great for all skin types, your fine lines and loose skin won't know what hit 'em after slathering on this skin-strengthening cream. 
7 Olay Age Defying Advanced Gel Moisturizer with Hyaluronic Acid
amazon.com
$15.96
Hyaluronic acid grabs and holds onto moisture, making it one of the best ingredients for much-needed hydration. "When skin is dry, it's less able to protect itself," says Dr. Meinhardt. You can find the ingredient in this lightweight, oil-free formula from Olay, which is  designed to hydrate and plump both your face and neck, giving it a smoother appearance.
8 NeoStrata Skin Active Triple Firming Neck Cream
dermstore.com
$84.00
This tightening cream from NeoStrata contains an anti-aging trifecta of unique ingredients: Amino acids and NeoCitriate help firm skin by boosting collagen production; NeoGlucosamines exfoliate to lighten dark spots, and vitamin E and shea butter work to  moisturize.
9 Differin Gel
amazon.com
$25.72
Retinoids are one of the best anti-agers for your face—and the same goes for your neck. "Retinoids can help prevent fine lines and wrinkles and improve skin texture," says Meera Sivendran, MD, assistant professor of dermatology at Mount Sinai in New York. She recommends using Differin on your neck too, which is the only OTC retinoid available that's prescription-strength. Bonus: It's top-rated for those struggling with adult acne.
10 SkinCeuticals Neck, Chest & Hand Repair
dermstore.com
$70.00
If sun spots and discolorations dot your neck, this lightweight exfoliating lotion brightens skin with hydroxyphenoxy propionic acid, helping to even out wrinkly texture for an all-over glow. It also targets that crepey look with hyaluronic acid, resulting in smoother, supple-looking skin. No need to worry about irritation (a common problem around your neck area), since this formula is fragrance-free, says Dr. Meinhardt.
11 Neutrogena Healthy Defense Daily Moisturizer with SPF 50
Neutrogena
walmart.com
$16.25
Also named one of our top sunscreens of 2019, this moisturizer from Neutrogena also makes a great daytime neck cream because it contains broad-spectrum SPF 50, earning a recommendation from Dr. Marchbein. A perfect option if you have sensitive skin, this gentle formula is free of chemicals filters, oils, and fragrances—just be sure to reapply every two hours for max protection!
12 ALASTIN Restorative Neck Complex
alastin.com
$110.00
This is one of the best firming neck creams out there, thanks to its powerful blend of peptides and antioxidants. "These proteins stimulate collagen and elastin production to tighten skin and fill in fine lines," says Dr. Dy.
That was The Best Firming Neck Creams for Youthful-Looking Skin
That Was The Best Firming Neck Creams for Youthful-Looking Skin, Hopefully it's useful and you like it.
You are reading The Best Firming Neck Creams for Youthful-Looking Skin,Url address: https://www.fiwwit.com/2019/05/the-best-firming-neck-creams-for.html