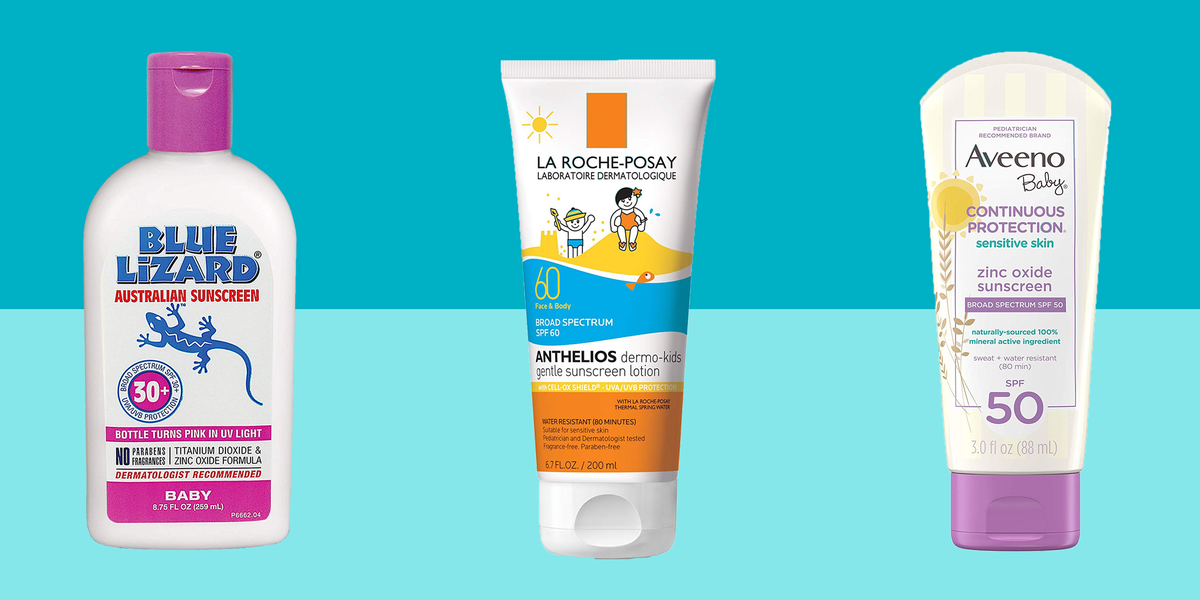 Wrestling with your toddler as you try to apply his sunscreen or arguing with your daughter to put on SPF before she goes to day camp is nobody's idea of fun—but it's essential to protect your little ones from the sun's harmful UV rays.
No matter how your kid reacts to putting on sunscreen, with all of the lotions, sticks, sprays, and creams with "baby" or "kids" on the label, the hardest thing may be choosing which one to use. That's why we consulted five dermatologists to find out exactly what you need to look for when buying, and named the best sunscreens for kids and babies in 2019.
Important reminder: If your infant is less than six months old, both the American Academy of Dermatology and the Skin Cancer Foundation recommend keeping your baby out of the sun (and avoiding sunscreen if you can), as their skin is highly sensitive and has too little melanin, making them more susceptible to sun damage. Instead, if you must have your infant out in the sun, dress them in lightweight long sleeves and pants, a wide-brimmed hat, and sunglasses to protect them from head to toe. Once your child is 6 months old, make sure you apply SPF liberally whenever they're spending time in the sun.
How to choose (and use) the best sunscreens for kids and babies
Use a high SPF: A water-resistant, broad-spectrum sunscreen with an SPF 30 or higher will be the safest choice for your kids. This ensures your sunscreen protects against both harmful UVA and UVB rays.
Choose mineral: Many dermatologists prefer physical (aka mineral) sunscreens made of titanium dioxide or zinc oxide, which deflect sun rays, whereas a chemical sunscreen absorbs them, says Meghan Feely, MD, a board-certified dermatologist in New Jersey and New York City who serves as a clinical instructor at Mount Sinai. These natural sunscreens are often gentler on kids' sensitive skin. (Bonus: Mineral formulas are also reef-safe, so you'll keep coral-damaging chemicals out of our oceans, too.)
"Babies and kids have thinner skin and a higher surface to volume ratio," says Julia Tzu, MD, founder and medical director of Wall Street Dermatology. Because their skin absorbs more per unit of body weight than an adult does, "it's important to make sure that whatever you put on their skin is 'pure,'" she adds. Translation: Avoid using sunscreens with chemical ingredients (such as oxybenzone or avobenzone), as they have a higher risk for irritation.
Go for lotions: Although sprays are easy to apply, most people don't apply them effectively. "Improper application can result in poor outcomes. You can't spray it like perfume or spring water—the nozzle should be about 2 centimeters away from the skin and you should see the liquid on the skin," says Adam Friedman, MD, professor of dermatology and residency program director at the George Washington School of Medicine and Health Sciences. "Sticks are also crowd favorites, but need four passes on each area of skin to have any effect," he adds. The bottom line: Lotions tend to be best unless you can diligently apply spray or stick sunscreen.
Now that you know what to look for, we asked our experts to recommend their top picks. Check out the best sunscreens for babies and children below, and remember to apply every two hours and more frequently if your little one is sweating or playing in the water.
Stay updated on the latest science-backed health, fitness, and nutrition news by signing up for the Prevention.com newsletter here.
1 Blue Lizard Australian Sunscreen Baby
amazon.com
$22.35
$17.25 (23% off)
Free of potentially irritating parabens and fragrances, this SPF 30, broad-spectrum sunscreen protects the skin using zinc oxide and titanium oxide. It's water resistant for 40 minutes, plus the bottle turns pink when harmful UV rays are present, so you have a nice reminder to apply more, get the kids under the beach umbrella, or consider a lunch break inside.
2 La Roche-Posay Anthelios Dermo Kids Sunscreen SPF 60
amazon.com
$19.99
Developed with dermatologists and tested by pediatricians, this sunscreen lotion offers top-notch protection against UVA and UVB rays. The lightweight formula is free of parabens, dyes, and artificial fragrances, and water resistant for 80 minutes. Added antioxidants "further guard the skin from future sun damage," says board-certified dermatologist and cosmetic surgeon Joel Schlessinger MD, FAAD, FAACS, president of LovelySkin.com.
3 Neutrogena Pure & Free Baby Sunscreen Lotion Broad Spectrum SPF 50
walmart.com
$10.97
This zinc oxide sunscreen is free of irritating chemicals, fragrances, parabens, phthalates, and dyes, and was awarded a National Eczema Association (NEA) Seal of Acceptance, indicating it's suitable for those with sensitive skin. Stick to SPF 50 rather than the SPF 60 version. The Environmental Working Group (EWG) gives the 50 its highest rating.
4 CeraVe Baby Sunscreen Lotion Broad Spectrum SPF 45
amazon.com
$18.04
$14.36 (20% off)
This mineral sunscreen for kids contains both zinc oxide and titanium oxide without potentially irritating fragrances, parabens, or sulfates, earning it a NEA Seal of Acceptance. CeraVe also formulated this product with hydrating ceramides (natural fats in the skin) and soothing aloe vera to moisturize while it protects the skin. It's water resistant for 80 minutes and absorbs quickly, which is always nice for kids who hate the sticky feeling of sunscreen.
5 MDSolarSciences Mineral KidCrème SPF 40
amazon.com
$28.00
This mineral sunscreen for kids earns top marks from the EWG, thanks to its top-notch UV protection and gentle ingredients. In addition to zinc oxide and titanium dioxide, this unscented, smooth formula contains soothing green tea, nourishing vitamin E, and fruit extracts, all of which act as antioxidants to offer additional protection. The best part? It feels great on the skin and won't sting the eyes, so even stubborn kids will love slathering on this SPF.
6 Aveeno Baby Continuous Protection Sensitive Skin SPF 50
amazon.com
$9.97
Water resistant for 80 minutes, this mineral sunscreen contains 100 percent zinc oxide for broad-spectrum SPF 50 protection, along with oat extract to soothe and moisturize the skin. While the lotion feels thick at first, it absorbs quickly with a non-greasy finish. It's also free of fragrances, parabens, dyes, and phthalate, earning the NEA Seal of Acceptance. No need to worry about stinging the skin with this one!
7 Vanicream Sunscreen Broad Spectrum SPF 35
amazon.com
$22.98
This lightweight sunscreen works amazing for parents and kids alike. "Vanicream brand works really well, especially in the water," says Rebecca Baxt, MD, board-certified dermatologist at Baxt Cosmedical. The mineral formula is water resistant for 80 minutes, noncomedogenic (so it won't clog pores when applied to the face), and doesn't contain oils, fragrances, or harsh chemicals. 
8 All Good Kids Sunscreen SPF 30
amazon.com
$15.95
Making the EWG's list of best sunscreens for kids, this coral-friendly, non-greasy, broad-spectrum sunscreen contains zinc oxide for sun protection alongside skin-soothing chamomile and green tea. It's also water resistant for 80 minutes and rubs in easily. 
9 Badger Baby Sunscreen Cream SPF 30
Badger
amazon.com
$13.97
This pediatrician tested and approved, broad-spectrum sunscreen lotion contains only six ingredients—including soothing chamomile and nourishing vitamin E—in addition to zinc oxide. It's reef friendly, biodegradable, and certified cruelty-free as well as water- and sweat-resistant for 40 minutes. Your child may have white skin for a little while, but it's worth the protection.
10 Thinkbaby Safe Sunscreen SPF 50+
walmart.com
$8.89
The EWG also lists this mineral sunscreen for kids and babies as a safe, excellent option. It offers high broad-spectrum protection, doesn't feel sticky on the skin, and contains moisturizing aloe, hyaluronic acid, and jojoba oil. What's more, vitamins C and E act as antioxidants to further protect the skin from damage. 
11 Sunology Natural Sunscreen for Kids SPF 50
Sunology
amazon.com
$14.99
Water resistant for up to 80 minutes, zinc oxide and titanium dioxide provide UVA and UVB protection in this chemical-, paraben-, fragrance-, and cruelty-free formula from Sunology. Kids will love this sunscreen, as it won't sting their eyes when they sweat, rubs in easily and smoothly, and doesn't feel super goopy or greasy. 

That was Dermatologists Say These Are the Safest Sunscreens for Kids
That Was Dermatologists Say These Are the Safest Sunscreens for Kids, Hopefully it's useful and you like it.
You are reading Dermatologists Say These Are the Safest Sunscreens for Kids,Url address: https://www.fiwwit.com/2019/04/dermatologists-say-these-are-safest.html