Whether you're battling a rough cold or nasty allergies, there's one thing that will always make your symptoms worse: dry air. "When humidity levels are low, people tend to experience dry eyes, cracked lips, and irritated sinuses," says Stephen Canfield, MD, PhD, an allergist at ColumbiaDoctors Midtown in New York City.
That's where humidifiers come in. These handy devices can take the desert dryness out of your home by adding moisture to the air, which can help alleviate uncomfortable cold and allergy symptoms, like a runny nose, sinus congestion, dry throat, or cough, according to the Cleveland Clinic. Once the air hits about 40 percent humidity, says Dr. Canfield, most people start to feel better.
How to choose (and use) the best humidifier for your home
Know the types: There are numerous types of humidifiers on the market, from warm to cool mist to steam vaporizers to ultrasonic machines—and all of them effectively add moisture to the air. The kind you choose is ultimately up to you, but in general, cool mist humidifiers are the safest option (especially if you have children around), according to the U.S. National Library of Medicine. Warm mist humidifiers run hot and may cause burns if you get too close.
Take room size into account: The size of your humidifier will depend on the size of the room you plan on running it in. Personal or travel-sized humidifiers typically only reach 25 to 100 square feet. Be sure to check the square footage your machine can reach on its packaging (determined by its gallon size) before you invest.
Keep it clean: Use distilled water in your chosen machine, since tap water contains minerals that can breed bacteria and irritate your sinuses. You should also be sure to regularly change the filter or clean your humidifier (preferably daily, but at least every 2 to 3 days). Otherwise, mold could grow inside the device due to standing water and get blown through your home, making life pretty awful for those with mold allergies—or anyone, really.
Keep the humidity level in check: Ideally, indoor humidity should not exceed 50 percent, according to the Environmental Protection Agency. Avoid running your humidifier for long periods of time (better yet, set the humidity level on the unit if it offers that feature). When the air is too damp, mold and mildew can grow and cause breathing problems.
Ready to make your home more comfortable? These top-rated humidifiers will help you breathe easier in no time.
---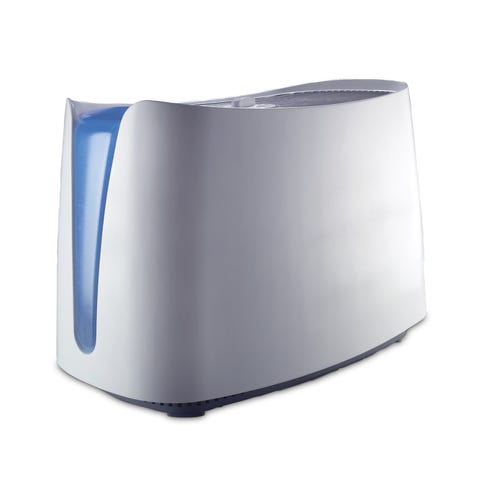 Amazon
Best Easy-to-Clean Humidifier: Honeywell HCM-350 Germ Free Cool Mist Humidifier
This cool-mist humidifier can easily be cleaned by hand or in the dishwasher, and you can crank on the UV light to kill any microbes that may be lurking in the water. The machine runs for up to 24 hours on low, thanks to its one gallon tank. Major bonus: It's also super quiet.
SHOP NOW
---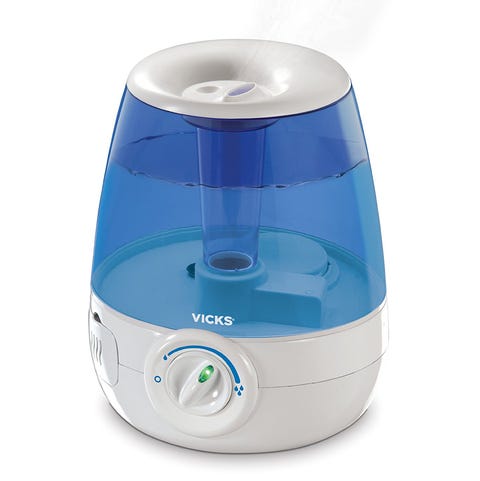 Amazon
Best Humidifier for Colds: Vicks Filter-Free Humidifier
You have better things to do than constantly tend to your humidifier, which is why we love this option from Vicks. With a 1.2-gallon tank, it produces cool mist for up to 30 hours. Plus, it contains a slot for Vicks VapoPads, diffusing a soothing menthol scent for when you're fighting a cold. It also shuts off automatically when the water gets too low.
SHOP NOW
---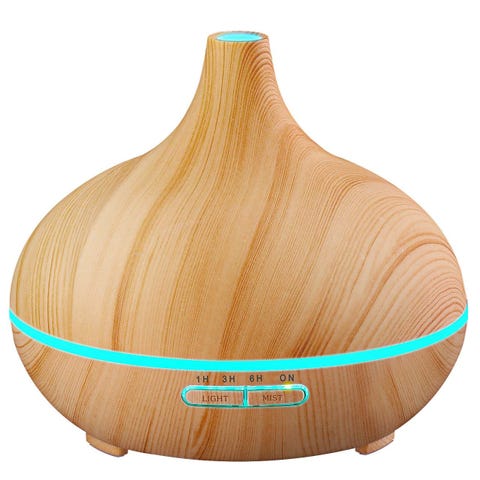 Amazon
Best Essential Oil Humidifier: VicTsing Humidifier and Essential Oil Diffuser
With its wood grain finish and seven color-changing LED lights (with dim and bright options), this humidifier looks like it belongs in a spa. Doubling as an aromatherapy diffuser, you can add your favorite essential oils into the water to fill your home with soothing scents.
SHOP NOW
---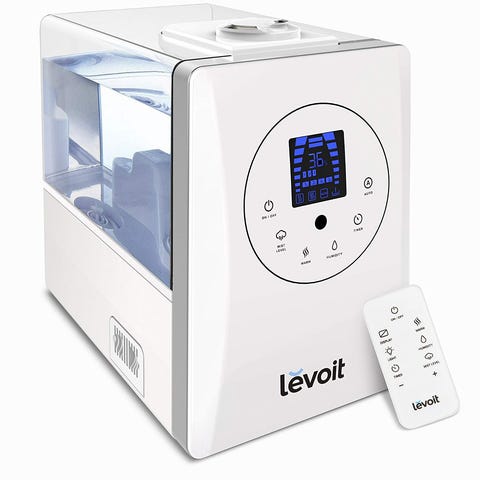 Amazon
Best All-in-One Humidifier: Levoit Cool and Warm Mist Ultrasonic Air Humidifier Vaporizer
This multitasking humidifier alternates between warm and cool mists, holds 6 liters of water, has an easy-to-read display (which reads the exact humidity level in the room), doubles as an aromatherapy diffuser, and operates via remote control. Its 2-year warranty and lifetime support guarantee make it worth the investment.
SHOP NOW
---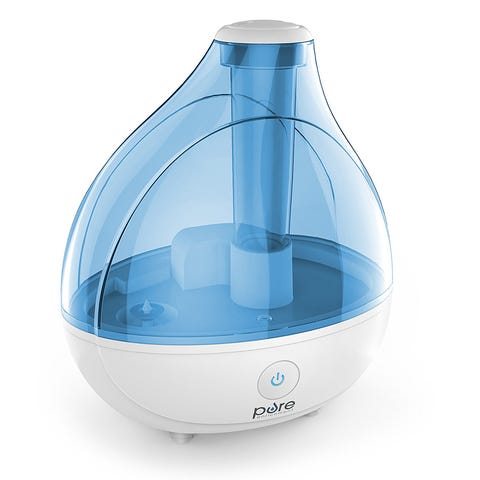 Amazon
Best Humidifier for Sleep: Pure Enrichment MistAire Ultrasonic Cool Mist Humidifier
Ideal when you're looking for a peaceful snooze, the Pure Enrichment humidifier has a soothing night light and quietly produces mist for 16 hours straight. It's also easy to set your personal preferences with high and low speeds, as well as adjustable mist direction.
SHOP NOW
---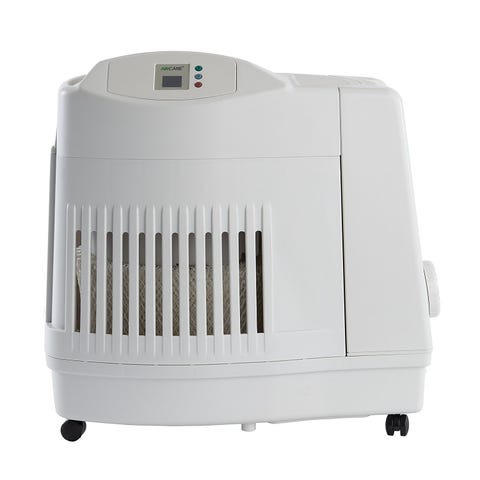 Amazon
Best Humidifier for Large Rooms: Essick Air Aircare MA1201 Whole-House Evaporative Humidifier
If you need a humidifier for a larger space, this easy-to-clean device will get the job done as moisture reaches 3,600 square feet. You can set the humidity level using a digital humidistat, and then it automatically powers down once it hits your desired percentage. It's larger in size, but is easy to move around due to the attached wheels.
SHOP NOW
---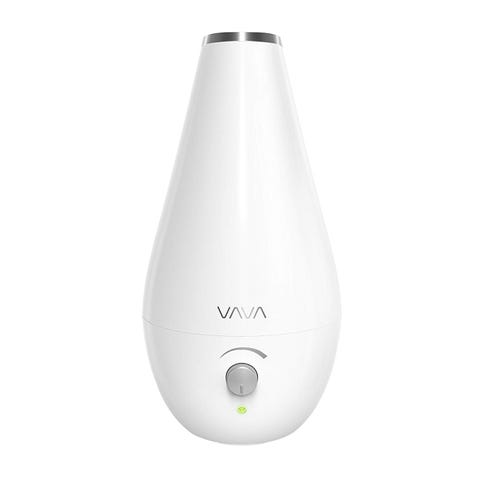 Amazon
Best Small Humidifier: VAVA Cool Mist Humidifier
This sleek humidifier looks more like a vase than it does a device due to its rounded, vertical design. Because it's lightweight and quiet, you can take this humidifier anywhere you want in the house, including your bedroom, living room, or even a baby's nursery.
SHOP NOW
---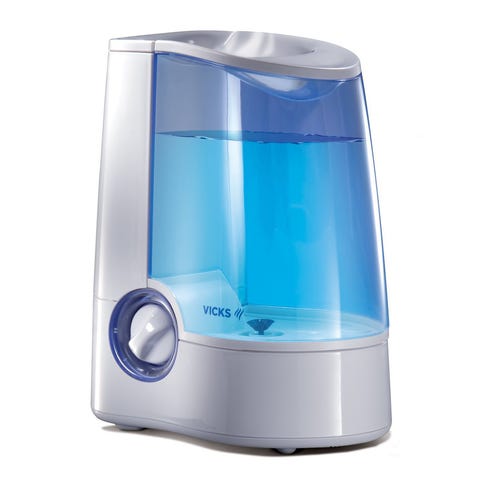 Amazon
Best Warm Mist Humidifier: Vicks Warm Mist Humidifier
This Vicks model boils the water into a steam vapor, has two easy-to-use settings, doesn't require a filter, offers a soft night light, and has an automatic shut off function. It also includes a cup that holds liquids like Vicks Vapo Steam to create a medicinal vapor.
SHOP NOW
---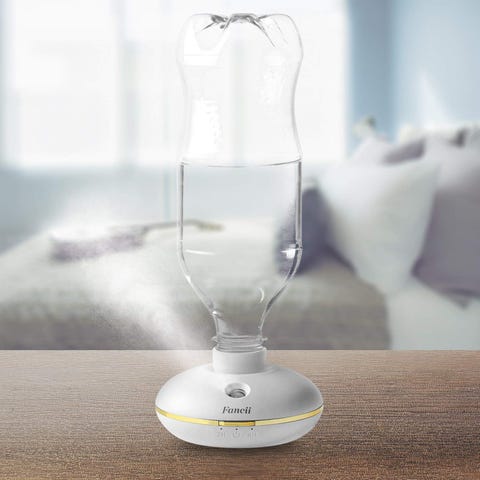 Amazon
Best Travel Humidifier: Fancii Cool Mist Personal Mini Humidifier
This portable humidifier is just what you need after a traveling all day on a plane. Because it's cordless and runs on batteries, you can whip this device out in your hotel, in a tent, in your car, or even at the office. You simply turn a normal bottle of water into a tank by twisting it into the middle of the device.
SHOP NOW
That was A Humidifier Will Make Allergy Season Way Less Miserable
That Was A Humidifier Will Make Allergy Season Way Less Miserable, Hopefully it's useful and you like it.
You are reading A Humidifier Will Make Allergy Season Way Less Miserable,Url address: https://www.fiwwit.com/2019/04/a-humidifier-will-make-allergy-season.html